We are O-ring-stocks.
A company owned by Techniparts.
We, O-ring-stocks, are a supplier for o-rings and other industrial seals. O-ring-stocks has over 20 years of experience in the field of o-rings and seals. This knowledge results in being able to give our customers the best possible sealing solutions.
We are a small company based in Wezep (near Zwolle). Our main focus is our customer service and if you are unable to find a specific size of a seal we are always ready to provide a custom made o-ring for you. We have a solution for every sealing problem.
You can always drop by to discuss your specific sealing problem. You can make an appointment so that we can ensure to plan in enough time to give you the help you need. In the case it is not possible for you to come by, you are welcome to send us you problem by email or post. We will then contact you and discuss the possibilities for your project.
Our Team
Frank Muntz - Owner/Director
Jaco Zwiggelaar - Sales & Logistics Manager
Constance Muntz - Sales & Logistics
Youri Rotman - Online Sales & Logistics

Jarony Zwijns - Sales & Logistics
Danny Witvoet - E-Commerce & Marketing Manager
Bram Mulder - Jr. E-Commerce

Quinten Muntz - Commercial Assistant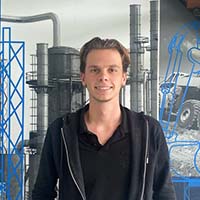 Fedde Pierik - Commercial Assistant